The Chelsea Chamber Players is a 501(c)(3) non-profit organization that exists to provide live music concerts to the people of Chelsea and surrounding communities, and to provide further educational experiences for these communities through workshops in schools and summer music camp opportunities. Read more
20th Anniversay
Continues in 2021!

Join Ballet Chelsea, the Chelsea Chamber Players, and the Jackson Symphony Orchestra for Reflections, a collaborative project in celebration of the art that binds our communities! Together, our goal has, and continues to be, to give back to the generous communities that support our endeavors through art - an avenue of joy for so many! The past year has emphasized the importance of communication, support, and sharing with others in the pursuit of emotional and physical wellbeing. As we move forward, finding new ways to produce art, we celebrate the resiliency and innovation of our communities.

With this collaboration, Ballet Chelsea honors and supports Ballet Chelsea alumnas, Lauren (Mitchell) Wolffis. A nurse, wife, daughter, and friend, Lauren was recently diagnosed with cancer. Faced with many consequential decisions and career pauses that have been necessitated by medical treatment, Lauren's community has gathered to support her in whatever ways are needed.

Watch the Premiere ! Available May 1st at 8:00pm until May 14th. Here!


And, while you are at Serendipity, consider a 20th Anniversary T-Shirt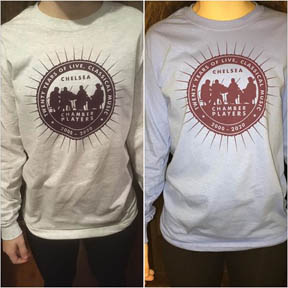 Long sleeved T-shirts to commemorate the occasion.
Colors - ash, light-blue or purple.
Price - $18
Donate to Chelsea Chamber Players now
by PayPal