Board Members
Sara Cumming President
Peter Lenehan, M.D. Secretary
Ian Cumming Treasurer
Ann Feeney
Alex Foulis
Aames Tobias

Next Concert
3:00pm, Sunday March 15th, 2020 at the Chelsea Depot

Chelsea Chamber Players
Chelsea, MI U.S.A.
Donate to Chelsea Chamber Players!


Please consider helping us finance next year's live concerts and educational workshops in the Chelsea community.

Chelsea Chamber Players is run entirely by volunteers who take responsibility for all fundraising, concert planning, publicity, web design, venue setup, and providing refreshments after every concert. But - we do need money in order to pay the professional musicians we engage.

As the holidays approach, please consider a tax-deductible donation to the Chelsea Chamber Players in your end of year giving plans. Any financial support will be greatly appreciated, no matter what the amount.



Donate Now
PayPal
P.O. Box 572, Chelsea MI 48118
20th Anniversay in 2020!

Help us celebrate our 20th Anniversary in 2020!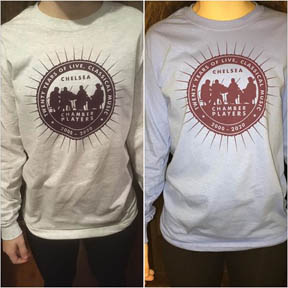 Long sleeved T-shirts available to commemorate the occasion.
Colors - ash, light-blue or purple.
Price - $18
Drop in at Serendipity Bookshop, Chelsea to get yours today!